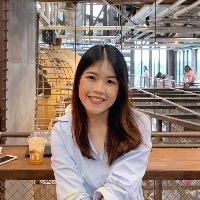 Siriphak Pongthai
Participant
What I impress is the color and tone of this dashboard since many Thai presses use intense colors and tones for COVID-19 situation.
I like how they use pictures and symbols instead of words this makes me want to read it, rather than provide only information in words without any pictures. Such as the human symbols with colors that classified disease status of patients [red for infected, orange for active, green for cured, and black for death]. In addition, the colors that classified gender are easily differentiated.
Moreover, I like how they demonstrated the line graph that make people could easily understand trends of the situation.
However, for the distribution of confirmed cases by age group reported in bar chart should be showed in color that is different from that uses for gender classification. Since some people (most of male who have problem with color blindness) might have problem with distinguishing tones of colors, the intensity/saturation/tones of blue that illustrates distribution of cumulative cases should be clearer or better make it in different color.