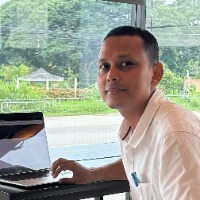 Phyo
Participant
1. How can surveillance help to detect and control the disease?
Surveillance can identify the very beginning stage of the outbreak and disease containment can be achievable in the early phase. Public health officers respond immediately according to the specific case definition and contingency plan. Outbreak patterns can be monitored by geolocation, size, time, etc. so that necessary intervention can be implemented timely at the appropriate level. Even before the outbreak, continuous monitoring of the disease helps detect the new outbreak in the community.
2. Should we conduct active or passive surveillance or both for the disease, why?
I believe a mix of passive and active surveillance would be the best solution for monkeypox. I think contacts of symptomatic patients should be screened thoroughly in the community to find out asymptomatic patients. Contact tracing is important because I feel that people might be afraid to visit hospitals for healthcare services due to stigmatization in the community. It is advocated that Monkeypox is infected by sexual transmission, so people are reluctant to give their full history to health officers. In this situation, mild cases or asymptomatic carriers will circulate in the community and spread the infection. A combination of active and passive surveillance is the best chance to control the monkeypox outbreak initially.
3. Which method should be best to identify cases, and why?
1. Cases in medical facilities VS community
Community-based surveillance would be appropriate for monkeypox as some cases might be mild or asymptomatic and they will not visit medical facilities. It creates the opportunity to find patients outside healthcare services and promote patients' access to medical care.
2. Sentinel VS population-based surveillance
Population-based surveillance is preferable because monkeypox incidence can be monitored cautiously and widely as the country country-wide report. Incidence and mortality rates representing specific populations would be produced to compare global figures and the effectiveness of intervention.
3. Case-based VS aggregated surveillance
Since aggregated surveillance lacks specified data and information, cases are required to be investigated at the individual level as case-based surveillance for the identification of cases. A case investigation form will be used to collect information from patients and close contacts to investigate the disease.
4. Syndromic VS laboratory-confirmed surveillance
If it is the early stage of the outbreak, lab-confirmed cases could be necessary to establish an outbreak declaration in the specified area. After the outbreak has been established and confirmed, syndromic surveillance is sufficient as the case definition covers fever, skin rash, mucosal lesions ranging from oral, and urethral to anorectal lesions, and lymphadenopathy. It promotes the chances of rapid detection of cases with less use of resources. However, if the lab resources are available and abundant in a country, laboratory confirmation will be sent for further investigation for some or all cases depending on the caseload.
4. What dissemination tools will you choose to disseminate monkeypox surveillance information? Why do you choose this/these tools?
I would consider developing a data visualization tool on a designated page probably hosted on the ministry of Public Health website where the number of incidence cases and mortality cases will be updated regularly. Surveillance bulletins and reports will be uploaded on the page weekly and public health officers and stakeholders utilize the information.
Social media will be linked with this website and update users about the number of cases in their surroundings or visiting areas. Health education materials such as factsheets and health talks will be embedded in the same website to deliver accurate and consistent information to the public.