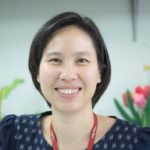 Saranath
Keymaster
Thanks for sharing. The malaria information system would be very helpful for monitoring and making decision toward malaria elimination. As far as I know, malaria is most endemic in the rural areas. I was wondering, if there would be a limitation on internet access and also access to the system.
Organization: Good sequence of information. However, the presentation was almost 1-min over the time-limit assigned.
Content: Accurate and complete explanation of key eHealth domains. Good explanation of the system.
Presentation: Visual-aid can be improved, for example the slides of eHealth domains, the picture is too small comparing to the overall slide's space. This slide keep static for a long period of time. When you present online, you should not keep the screen static for long time- this would loss people's attention. I like the way you speak, paces and pauses are perfect.