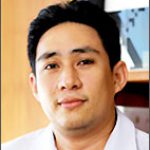 Patiwat Sa-angchai
Participant
save selected feature is not the purpose of intersection method, even they result the same as intersecting point feature with polygon layer.
if you intersecting polygon or line as a input layer with polygon as a Intersect feature(cookie cutter) the result will difference. Save selected feature don't change boundary of polygon or line but the intersection can cut the body of polygon or trim the line to math your intersect polygon boundary.
try intersection tool not the save selected feature because result is difference.
focus on 3 factor in the intersection tool
– input layer : feature you need to subset(can be point line or polygon). In this case = village point and stream
– Overlay layer : polygon layer you use as a boundary. In this case = result from select by expression malaria > 1000 in the practice.
– Intersection : the intersection result file.
PS. checked selected feature will use when you do not need to generate new file for the intersection boundary but you need some feature was selected in overlay layer as a cookie cutter.