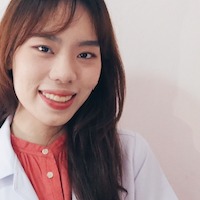 Kansiri Apinantanakul
Participant
Since I'm just graduated during the COVID-19 pandemic and started my working in clinical research field. I have no experience working in the healthcare service field before, especially government section. However, I did have some sharing from my friend working there.
Social
People aware of the pandemic and keep the social distancing. The behaviors of people are changing rapidly. During the peak of pandemic, patient with mild symptoms did not visit OPD/ER at all. Thai people tend to rely on pharmacy and/or herbal medicine more than the past. Even it seems that the workload of the HCP has been reduced but it was balanced by the workload of managing COVID-19 patient.
Technologies
COVID-19 pandemic drives the rapid growth of technology in Thailand including the telemedicine service and the m-Health platform including various application by both government sector and private sector. This may lead to the change in the workload and way of working for the healthcare professional.
Environment
The unplanned large number of wastes generated during the peak of COVID-10 including the PPE, physical barriers, masks were managed improperly. This created the unsafe environment for healthcare professional. Each hospital may have their own policy on the waste management but there is no official policy at the national level.
Economic
From the past, it is obvious that the compensation for healthcare professional working on government sector is less than private sector. The high inflation rate and the delay in claiming the additional bonus created the tension in government sector.
Political
The government sector put the effort on the compensation for the healthcare professional who is the frontline worker. However, the process of claiming the additional bonus take long time and this issue affects almost all levels of hospital in Thailand.
Apart from that, there is the shortage of PPE, vaccine and/or other equipment to support frontline worker.
It was observed the large number of resignations in government section due to the improper management of mid-level up to the national policy level.