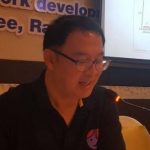 THONGCHAI
Participant
In my idea Net Pracharat is benefit for rural people. Hight speed broadband across rural town make opportunity for every one to access internet. People can get knowledge, education, learning, selling local product in rural area in www. Free wifi broadband hot spot can help rural child and people receive service to better information health care, and learn without border. The high-speed internet from Net Pracharat support policy Thailand 4.0 to creativity digital product and innovation point to the target digital transformation in government organization.Net Pracharat is a good strategy to improve rural people communication between rural and town.
There are 6,900,000 users connect in Net Pracharat.
The weak point of Net Pracharat is easy to register. The value of information is very important. User only register with CID and mobile phone. That can unauthorize user connect in broadband internet. Strengthens security to access broadband system can protect confidential prosomal data privacy protection. When many user connect in to Net Pracharat system too slow and lower internet quality.