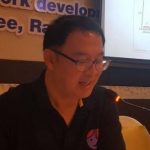 THONGCHAI
Participant
Can you give an example of data that you think it could be considered as "Big Data"?
I think Big Data are line , facebook and twitter but it only social media not health information. In Thailand Big Data of public health information such as
1. 43 File data set of Ministry of Public Health
2. NTIP (National Tuberculosis Information Program) is a program about TB prevention , lab result , and drug used in TB patient.
3. NAP (NATIONAL AIDs Program) is a program about HIV prevention , OI , lab result , blood test , condom used and drug used in HIV patient.
4. 506 is Epidemiological report.
What are the characteristics of the data that fit into 5Vs, or 7Vs, or 10Vs of Big data characteristics?
The characteristics of the data that fit into 5Vs, or 7Vs, or 10Vs of Big data consist of
1. Volume is a large amount of data. And is larger than general data
2. Velocity is data that is constantly changing. And is fast
3. Value is valuable information. Can be used for real use
4. Variety is the form of data There are many Whether text Or will be various media such as pictures, videos
5. Veracity is the accuracy of the information.
6.Variability is Data that is not stable
7.Visualization is using charts and graphs to visualize of complex data is much more effective in meaning.
8. Volatility How old does your data need to be before it is considered irrelevant , historic.
9. Visualization Another characteristic of big data is how challenging it convert database to visualize.
10. Value Lastest the most important of all, is value. The other characteristics of big data are meaningless if you don't derive business value from the data.