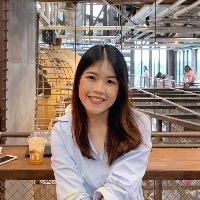 Siriphak Pongthai
Participant
I am sorry for misunderstood and being late. I just would like to share my leadership experience at work.
I am working as a pharmacist particularly for managing and handling investigational products (IPs).
When staff have questions that are related to "IPs", side effects, drug interaction, or everything with medicines (or แค่มีคำว่ายา), they will reach me out at the pharmacy. To be honest, when I first started my work here, it scared me in making decision because I don't really like to make a decision unless there is somebody support me. But working here, make me stronger in many aspects for example, leadership for team, teamwork, and management skill.
I was nice meeting you all virtually today.
Looking forward to sharing and talking with you all in the next workshop 🙂