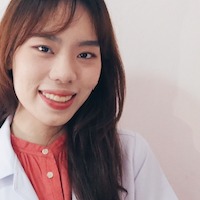 Kansiri Apinantanakul
Participant
1. How can surveillance help to detect and control the disease?
In Thailand, monkeypox is not widely spread. Therefore, it is crucial to early detect and limit the spreading of monkeypox in Thailand. The surveillance could help in disease monitoring, and case tracking. Once the data was obtained from the surveillance process, it could be disseminated to all stakeholders to respond to the change of situation.
If there is no surveillance of monkeypox. The case reporting might not be in a timely manner. The infection might get easily out of control.
2. Should we conduct active or passive surveillance or both for the disease, why?
The monkeypox infection in Thailand is mostly due to person-person contact from arriving foreigners. Since these foreign groups are in all areas of Thailand. Passive surveillance is used because the scale of surveillance is national wide. It would be time and resource-consuming to conduct active surveillance.
3. Which method should be best to identify cases, why?
1. Cases in medical facilities VS community
The cases from the community are used to ensure that we could track all possible cases since it is crucial to track case and their travel route.
2. Sentinel VS population-based surveillance
The population-based surveillance is used as the reason mentioned in question 2).
3. Case-based VS aggregated surveillance
The Case-based surveillance is used to ensure that all details from each case were gathered. After gathering information, the exposed person must be sent for a test to prevent further spreading.
4. Syndromic VS laboratory-confirmed surveillance
I personally preferred syndromic surveillance to facilitate early detection and ensure that we could intervene the outbreak as soon as possible. The sign and symptoms of monkey is quite distinct compared to other local diseases. Combining signs and symptoms with the travel/exposure history. I'm pretty sure the specificity would be quite high.
4. What dissemination tools will you choose to disseminate monkeypox surveillance information? Why do you choose this/these tools?
Since this disease impacted all Thai people. I think it's essential to disseminate the information to all levels of stakeholders.
Thai people: The official announcement social network of case reporting would be used to raise disease awareness. Once people are aware of the risk, they would implement the measure to prevent themselves more. This would indirectly benefit to disease control.
Thai Healthcare professionals: The case alert should be sent to each hospital, especially hospitals near the case area. The email/messaging using SMS to responsible staff might be used
Thai MOPH: The official report would be provided on daily basis to ensure that Thailand healthcare authority is aware of the situation. Therefore, they could change their plan properly.
International party: The ProMed is used for disseminating the data to the international parties since this platform is popular and open access for all.