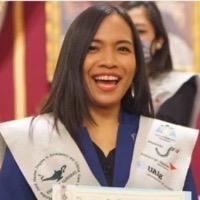 Panyada Cholsakhon
Participant
From the article: Digital technologies in the public-health response to COVID-19. (2020)
The application of digital technologies that enhance COVID-19 Surveillance and response that I prefer is "Contact tracing app". It is a digital tools that designed for helping identify and notify people who might have been exposed to COVID-19 via mobile application.
How the apps works? The apps uses bluetooth technology to detect other nearby smartphones (same app installed). Then the smartphones will exchange an anonymous identifier key via bluetooth. Once a user has COVID-19 positive and update his status in the app, the keys of infected user including all his contacts will send to the central server. This will let other person who contacted him get alert massage and advise for quarantine and/or get the test.
Importance:
It can help control the spread of diseases through individual participation. Smartphone owners can collaborate with the government to control transmission as it provides early warnings to individuals who may have been exposed. Moreover, people also receive advice about measures; quarantines, or the need for testing. The data from confirmed cases can benefit public health decision-making, regulatory adjustments, and the dissemination of updated information to the public. However, there are also limitations, such as the requirement for a large number of users to enhance the effectiveness of the apps, and privacy concerns need to be taken into account.