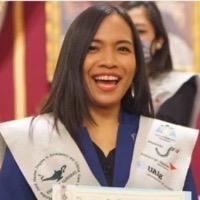 Panyada Cholsakhon
Participant
1. How can surveillance help to detect and control the disease?
If there is a monkeypox outbreak, surveillance will help detect the disease by tracking the number of reported cases and monitoring the disease's trend. For instance, if patients exhibit suspected monkeypox symptoms such as fever, headache, and swollen lymphnodes in the first few days, they are likely to seek medical attention for investigation. If a patient is confirmed to be infected, healthcare facilities and public health agencies can collect and analyze data. This data can then be used to identify trends and detect other patients who show similar symptoms. With early disease detection, public health authorities can implement regulations to prevent the spread of the disease to the general public. Eventually, through these measures, monkeypox can be brought under control.
2. Should we conduct active or passive surveillance or both for the disease, why?
In my opinion, both active and passive surveillance should be done together. Active surveillance will help detect every cases includes some cases that prone to be missing. Combining with passive surveillance is the better choice as passive can detect the diseases on individuals voluntarily seeking medical treatment, when they have symptoms or signs of illness.
3. Which method should be best to identify cases, why?
– Cases in medical facilities VS community: Medical facilities are often considered the easier way to identify cases, but many cases may be missed because some patients may not seek healthcare. Therefore, community-based surveillance is more appropriate in monkeypox control as it is not limited only for those who have less severity and do not go to hospitals. Also, it helps detect patients across a wide range such as homes, schools or other community facilities, and it is beneficial for diseases with eradication goals.
– Sentinel VS population-based surveillance: Population-based surveillance is the preferred choice for infectious disease surveillance because it is not limited to a small number of health facilities responsible for data collection. In contrast, with population-based surveillance, all suitable facilities collaborate in collecting and reporting data, which can aid in identifying cases within a specific geographic area. Moreover, it can help determine incidence rates and mortality at the national level.
– Case-based VS aggregated surveillance: Aggregate surveillance is easier and quicker to collect data because it only requires a system with clinicians who report the number of cases of specific diseases. The data collected includes the number of cases, age groups, and gender.
– Syndromic VS laboratory-confirmed surveillance: Syndromic surveillance can help the early detection and prevention of the spread of a monkeypox outbreak. This method can help identify suspected cases more quickly, which is crucial in emergency or outbreak situations.
5. What dissemination tools will you choose to disseminate monkeypox surveillance information? Why do you choose this/these tools?
Social media is an effective tool for quickly accessing outbreak information, as almost everyone has a smartphone and internet access. Moreover, it promptly provides updated news and information. For a trusted channel that releases surveillance information, I think PROMED is a good option to search for the latest outbreak news.