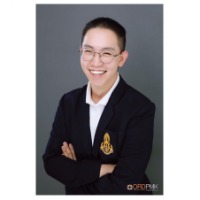 Teeraboon Lertwanichwattana
Participant
1. How can surveillance help to detect and control monkeypox?
I believe it can aid in the surveillance, investigation, and tracing of monkeypox cases. This approach enables the rapid detection of new outbreaks, effectively stopping the disease from spreading between humans and reducing transmission from animals to humans. The primary objectives of these processes include swiftly identifying both individual and clustered cases, ensuring these individuals receive optimal medical attention. Furthermore, these methods include isolating confirmed cases to prevent further spread, closely monitoring individuals in contact with the infected to detect early signs of infection, protecting healthcare workers, identifying vulnerable groups, and tailoring effective measures for disease control and prevention.
2. Should we conduct active or passive surveillance or both for the disease, why?
I strongly advocate for the implementation of both Active and Passive Surveillance methods. Active surveillance plays a crucial role in detecting cases that might otherwise go unnoticed, especially since transmission can occur even from individuals with mild or asymptomatic symptoms. I recall reading about a serology study conducted by the US CDC in the fall of 2022, where strong evidence of three previously undetected cases of monkeypox was found among 74 individuals experiencing homelessness (1.4% of the sample). This highlights the importance of active surveillance in identifying hidden cases. Appropriate case tracking is essential in active surveillance, enabling the notification of household, professional, and community contacts of individuals infected with monkeypox. This notification is vital, as it allows these contacts to seek post-exposure prophylaxis, minimizing the potential spread of the disease.
On the other hand, passive surveillance continues to be valuable for ongoing monitoring and reporting of the disease. It plays a vital role in detecting the overall burden of the disease within the community, providing valuable data for public health interventions and policy decisions. Both active and passive surveillance methods are indispensable tools in our fight against diseases like monkeypox, ensuring comprehensive and effective control measures.
3. Which method should be best to identify cases, why?
a. Cases in Medical Facilities vs Community
I share the perspective that monkeypox typically shows symptoms like skin lesions, general malaise, and flu-like signs. Although reports suggest it can lead to severe conditions such as encephalitis, some patients might not exhibit intense symptoms, which could deter them from seeking hospital care, especially during outbreaks due to feelings of embarrassment or shyness.
Relying solely on hospital surveillance might not suffice. I firmly believe that community-based surveillance is indispensable. This method is particularly crucial when dealing with diseases targeted for eradication. It involves tracing all cases through meticulous contact tracing, actively identifying individuals who have been in touch with confirmed patients within the community and monitoring them for any signs of the disease. This proactive approach ensures a comprehensive understanding of how the disease spreads and plays a vital role in timely intervention and containment efforts.
b. Sentinel vs Population-based Surveillance
I hold the view that the Monkeypox virus primarily spreads among humans through close contact with infected individuals or animals, as well as exposure to the clothing or bedding of patients displaying rashes. Additionally, cases have been reported where the virus spread through sexual activity, although it is not as easily transmitted as COVID-19.
In Thailand, the first confirmed case of Monkeypox was identified in a 27-year-old Nigerian individual who had entered the country, but then fled Phuket after testing positive on July 19. After a few days, he was located in Cambodia and is currently receiving treatment at a hospital in Phnom Penh.
Given such situations, I believe that sentinel surveillance is a preferred method for monitoring specific diseases, particularly among foreign arrivals and LGBTQI+ communities. This targeted approach allows for a focused monitoring of high-risk groups, ensuring that appropriate measures can be taken swiftly to prevent further transmission and protect public health.
c. Case-based vs Aggregated Surveillance
My perspective about case-based surveillance is preferable when dealing with diseases like monkeypox, primarily because it does not spread easily. To work towards eradicating the disease, it is crucial to ensure that every single case is reported and thoroughly investigated. Case-based surveillance allows for a meticulous approach, involving detailed investigation of individual cases.
Furthermore, contact tracing plays a pivotal role in confirming cases and implementing targeted control measures. Unlike aggregated surveillance, which provides summarized data without individual details, case-based surveillance allows for a more focused and precise response. By understanding the specifics of each case and tracing the contacts, public health officials can effectively prevent further transmission and safeguard the community. This methodical approach is essential for containing diseases and ultimately working towards their eradication.
d. Syndromic vs Laboratory-Confirmed Surveillance
I share the view that relying solely on laboratory-confirmed surveillance might delay the detection of monkeypox cases. This delay occurs because patients need to be identified either through laboratory tests, which could take time, or at the bedside using well-validated commercial rapid diagnostic tests. However, due to the nature of monkeypox, where patients might not exhibit severe symptoms and could avoid seeking hospital care due to shyness or mild symptoms, relying solely on laboratory testing might not be effective.
In light of these challenges, I believe syndromic surveillance is preferable. This method allows for the rapid identification of a cluster of cases displaying specific symptoms that might warrant further investigation. Syndromic surveillance enables the quick detection of potential cases within the community context. By identifying patterns of symptoms associated with monkeypox, public health authorities can swiftly respond, investigate, and contain the outbreak, even if individuals affected are hesitant to seek medical attention. This proactive approach is vital for timely intervention and control of the disease.
4. What dissemination tools will you choose to disseminate monkeypox surveillance information? Why do you choose these tools?
I agree that utilizing real-time dissemination tools is crucial for spreading information about monkeypox. In the digital age, online platforms play a vital role in delivering timely and accurate information to the public. Official websites and social media channels can effectively provide real-time updates, educational materials, and frequently asked questions (FAQs), ensuring that precise and timely information is accessible to a wide audience.
Mobile apps, specifically designed for easy information access, symptom checking, and reporting suspected cases, are incredibly valuable tools. They not only offer convenient access to relevant information but also empower individuals to take proactive measures regarding their health.
Considering monkeypox's relatively mild nature compared to COVID-19, understanding the time and place of the pandemic occurrence is crucial. Geospatial visualization dashboards enable the visualization of information and data storytelling through maps, graphs, diagrams, and interactive widgets. By consolidating this data on a single screen or webpage, geospatial visualization dashboards provide a dynamic view of the disease's spread. They allow users to track and compare data over time and space, facilitating real-time decision-making and a deeper understanding of the disease's patterns and trends. Such visualizations enhance our ability to respond effectively and swiftly to outbreaks, even in the case of diseases with milder symptoms like monkeypox.