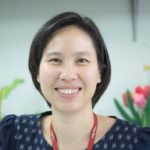 Saranath
Keymaster
Thank Noi Yar for sharing the App. It is impressive that the App had developed since 1998 and continue using it until now (I guess). The App serves not only one stakeholder, but also provide assistance to all related stakeholders. It would be interesting to see how do they do to maintain sustainability of the App.
Organization: Information is presented in a clear logical sequence. a bit over the time-limit.
Content: Accurate, complete explanation of eHealth domains and benefits.
Presentation: Well-communicated, clear audible voice, and good visual-aid.