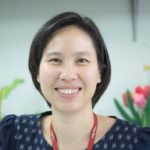 Saranath
Keymaster
Thanks for sharing! It's interesting to see a teleHealth App that is applied to a prescribed physical movement. This would really help to motivate patients to do rehabilitation at home. I agreed with Weerapat that the domain "health in our hand" can be added as this App can provide healthcare to patients everywhere.
Organization: Information is presented in a clear logical sequence. On-time.
Content: Accurate, cover 2 eHealth domains. The App is relevant to the patient's needs.
Presentation: Great visual-aid, well communicated, clear audible voice.