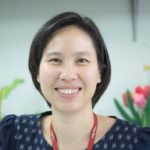 Saranath
Keymaster
Thanks for sharing. I'm impressed of the system and how the data from the system can be used for data analysis for prediction and control.
Organization: Information is presented in a clear logical sequence. However, your presentation was about 1-min over the time-limit allowed.
Content: accurate and complete explanation of the key eHealth domains. Showing all real data input screen and data visualization is really helpful to understand the system.
Presentation: Visual-aid is useful, we can see the system flow, screen-shot of the system. You use clear audible voice and good communicated. Thing that can be improved is about using laser pointer. When you use it you need to move it with real-cautious. If you want to emphasize things in the slide- next time you may try to emphasize it by adding boxes, change font color and use animation in the PPT to help.