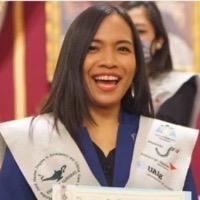 Panyada Cholsakhon
Participant
1. Have you ever observed a health informatics project in your (other) organization? Please provide a brief introduction.
Yes, as a nurse working in the hospital and have directly contact the service for my relative who is a cancer patient, "Cancer Anywhere" Project is really interesting and have many benefits. The Cancer Anywhere Project is a policy that improve the access to cancer treatment of cancer patient under the Universal Coverage Scheme (UCS) in Thailand. This project is helping cancer patient to request treatment at any public hospitals regardless of their registry hospital. It helps reduce the time of inter-hospital transfer procedure such as requesting the paper documentation and ensure patients can access costly-disease treatment. (Normally patients under the UCS only allows to request the treatment from hospitals they signed up only as it is a rule applied for UCS beneficiaries.) By this project, cancer patients can access treatment quickly and effectively without the need to wait weeks or months requesting transfer approval document from hospital staff.
2. How can this health informatics project help to improve the current practices?
After this policy is launched, the paperless inter-hospital transfer system was introduced for each partner hospitals to share health information and medical records of patients. As aforementioned, this project using technology to assist care ( Electronic data sharing between hospitals) which facilitate health providers to speed up the process of inter-hospital transfer and provide patient with timely and quality treatment. In my hospital and other partner hospitals, staff such as nurses are assigned as a cancer coordinators who register patients' information into the hospital databases and communicate with them about the policy and conditions and also advise them how to use the Cancer Anywhere Application. The application, hospital staff can monitor queues in other hospitals, helping them to find hospital that can provide treatment on time. The project evaluation shows that patient received treatment faster and express satisfaction with this policy and health care providers are also please with the outcome.
3.Are there any challenges or difficulties in implementing the project?
Per the National Health Security Service (NHSO), some hospitals finds their staff are lack of digital skills and data sharing is still limited to the different methodologies used for data collecting in each hospitals. Therefore, single data standard collection system is required to gain the seamless data collection and sharing across the hospitals.