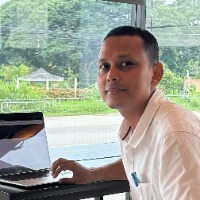 Phyo
Participant
I noticed there are several apps and platforms mentioned above for COVID-19 response in certain countries. Although I have few experiences of using Thai Chana apps, I have limited knowledge of using the apps because of my language barrier. On the other hand, I have no experience using COVID-19 apps in Myanmar. Thus, I would like to describe a health IT project that is not directly related to the COVID-19 response. It is about a chronic patient tool in my organization. Due to the late presentation nature and the financial burden on the health program, the organization developed a chronic health disease tool to register and monitor the chronic patients in the project area. Chronic patient information coming to health facilities is all recorded and uploaded to the server. The patient information has been linked with another tool which is the community health workers (CHWs) database for home visits and health education records. Those tools are Microsoft Access-based software from which data can be extracted easily for data analysis, visualization, and presentation.
Challenges
• Technical: There were several bugs and errors that occurred especially when starting the project. We have collected many data in the system and those data are not linked properly from one database to another.
• Cost: Developing a database requires a software developer and it is expensive. Only a few internal staff have knowledge of access database. The organization has to recruit staff to run the project smoothly and efficiently.
• Training: A series of training has to be provided to multiple levels of staff for maintaining a database and collecting and reporting data.
• Human resource: Some existing staff have been trained to use data properly and other staff are newly recruited for the project.
Knowledge and skills of health informatics to improve the project
• Data Standardization and data integration
○ Familiarity with healthcare data standards like HL7 can facilitate interoperability and data sharing.
○ Knowledge of how to integrate different data by using data-integrating tools could help the project run efficiently.
• Data analytics and reporting
○ Skills in data analysis and visualization tools to derive insights from patient data with experience in clinical knowledge of chronic disease.
• Data privacy and security
○ Knowledge of cybersecurity to protect sensitive patient data from any kind of cyber threat could also prevent unwanted threats to the clients.