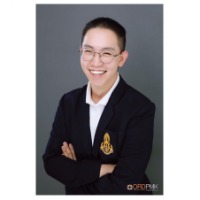 Teeraboon Lertwanichwattana
Participant
In my opinion, one of the projects that has proven highly beneficial is AMED Telehealth. It was implemented to support Home Isolation and Community Isolation programs during the COVID-19 pandemic. During that time, the fourth wave of the pandemic was particularly severe. Initially, all patients were admitted to hospitals for disease control. However, when the Delta variant emerged, in-hospital management became insufficient. Consequently, the Ministry of Public Health had to revise the protocol for treating COVID-19 patients, shifting towards home isolation care. AMED Telehealth served as a back-office operating platform to facilitate telehealth services provided by hospitals. This platform was integrated into the LINE app, enabling isolated patients to daily report their health conditions and engage in video calls with medical personnel for close monitoring via the LINE app.
However, this platform had some issues. As a physician, I had to switch between online platforms and the LINE app, which lacked synchronization. Additionally, the platform did not display information about the delivery status of items sent to patients' homes. We had to directly inquire with patients via the LINE app. Furthermore, the platform did not support the system for transferring patients to hospitals when their condition deteriorated. This made it challenging to identify patients in need of urgent care.
For improvement, if I were to develop this platform further, I believe it would be beneficial to create a patient portal. This portal would enable the treatment of patients regardless of where they received care. It could also facilitate direct transfers to other hospitals with interoperability protocols and data standardization, making it easier to exchange patient information. Moreover, it could maintain a unified record of patients' demographic characteristics, eliminating the need for referral papers issued by doctors. This would streamline the process, reduce redundancy in patient information collection, and ensure that crucial details are not overlooked in patient care. This is particularly crucial when a patient's condition deteriorates after their initial assessment, ensuring continuity of care and the preservation of important patient data.