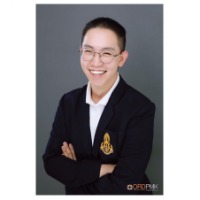 Teeraboon Lertwanichwattana
Participant
As a physician, I currently serve as a teaching assistant in the Epidemiology and Community Department, specializing in research and providing guidance to medical students in their research endeavors. I have also had the privilege of gaining valuable experience in epidemiology under the mentorship of accomplished professors with Ph.D. degrees and extensive expertise in this field.
My primary objective is to bolster my proficiency in Big Data analytics, encompassing the utilization of technology for data collection, effective database management, and support for large-scale projects. Furthermore, I am committed to honing my skills in ensuring robust data privacy and compliance with regulations, particularly when undertaking mega projects.
Lastly, in my role as an informationist, I aspire to enhance my ability to assist policymakers by facilitating the visualization of data trends, aiding in informed decision-making during times of crisis. All of these endeavors are geared towards improving my skill set as an informationist and contributing meaningfully to the field.