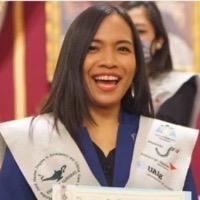 Panyada Cholsakhon
Participant
From my point of view, as I have direct experience only with Thai-Chana application at the beginning of the outbreak, its operation was very simple to use, just check-in and check-out by scanning the QR code in every places you visited. It is also useful in disease control in letting you know the timeline if infected people was detected. I think this app is the first application that let me open my eyes about the useful of smartphones and technology using for tracing the disease when there is a serious outbreak. For Moh-Chana application, it is different form Thai-Chana as they use GPS tracking automatically which can reduce time for the government in disease investigation, but by its operation people's personal information might be at risk. Mohprompt is another application that is still exist and useful lately especially on vaccination purposes such as vaccination registration and providing vaccination certification.
– The problem in each applications in my opinion are similar to my classmates mentioned above including it is not an one-stop-service, some apps consume the battery, it might provide an inaccurate information if putting false information, and also security concern such as personal information of users were hacked by the hacker. Even though the last and currently use app such Mohprompt project tried to have global interoperability in terms of digital COVID certification, I have experienced the problem in having digital vaccine pass as I got vaccinated out of Thailand for first two doses and the system recognised only my Thai ID No. not passport no. which causes an incomplete information and might affect when traveling abroad. However, these limitations would be good for future development when it comes to such this pandemic.
– Apart from knowledge in health and principle of public health, IT and computer science will be the main skills that use for this improvement. If we learned that having many applications launched caused people confuse, user-friendly design and one stop service application must be considered. Data security and privacy is another important issue that needed to be more aware for not causing the problem in the future. To boost interoperability across the organisation, country, and global, management and social science skills are required as the well system interoperability and data standard is the result of good enterprise architecture which need the collaboration and communication with all involved stakeholders.